Welcome to Rivermeadow Labradors
Introducing River Meadow Oak - Agility Warrant (Platinum) - a.k.a Oak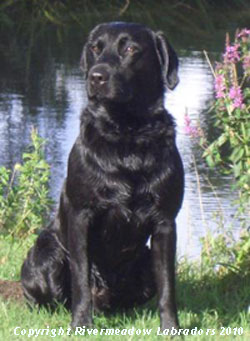 March 2018

Fantastic News on the Agility Front
Latest news
from Rivermeadow Labrador
Introducing:
River Meadow Oak AW (Platinum)

The first recorded 4th generation
Labrador with 0/0 hips since records began
Sire to 5th generation progeny with 0/0 hips
Meet some Oak Pups
Welcome
Welcome to Rivermeadow Labradors website. I hope you enjoy the site and finding out more about my boys and the various activities we enjoy with our working Labradors.
Based in beautiful Mid-Sussex, our boys all live indoors as part of the family, they sleep by my desk in the Office during the day, and enjoy camping holidays in the U.K.
Generations of Labradors have been carefully bred for their hunting and retrieving skills. True to their breeding, my dogs are excellent game-finders, happy to retrieve whatever they are asked. When the highlight of the shooting season closes they enjoy gundog training classes, working tests, and even swimming with me in the sea and retrieving my sandals from up the beach! The highlight of our summer months is training and competing at Agility which is a highly addictive, fun sport where dog and handler are a true team. I am proud that my Labradors have won a great many Agility awards.
I believe in health testing dogs before breeding. Please see the Health Testing page to read more about the tests currently available to us.
Oak and Fig are currently available at stud to health-tested bitches. To find out more about the boys, select the images below or use the left hand menu.