River Meadow Oak (Oak)
Riversway Apollo (hips 0:0) x Fern of Wephurst (hips 0:0)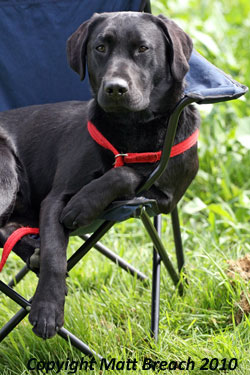 Date of Birth: 29.5.08
Hip score: 0/0,
Elbow Score: 0/0
Optigen: DNA Tested Optigen PRA Clear
CNM: DNA Tested CNM Clear
Current clear eye certificate
This exciting young dog excels in every sphere. Biddable and keen, a confident game finder, Oak has been a valued member of the Picking Up Team from 17 months of age. Consistently placed in Gundog Working Tests, Oak was "Judges Choice" out of 49 dogs in the Southern Interclub Team Event when he was just 12 months old. A true "all rounder", Oak also loves Dog Agility, and regularly features in the awards at multi breed agility competitions.
Oak's outstanding health test results are truly the icing on the cake. His hip score of 0:0, both his Sire's and Dam's hip scores of 0:0, also his Grandsire's and Great-Grandsire's hip scores of 0:0 makes his fourth generation zero score an unrivalled record* in Labradors in the UK since hip-scoring records started in the late 1970's (*August 2010).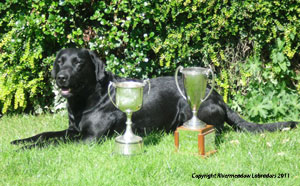 But life is about more than competitions and results. Oak is one of the most gentle and affectionate dogs I have had the pleasure to own. He is a joy to share my life with.
Oak is a proven sire and is available at stud to health tested bitches.